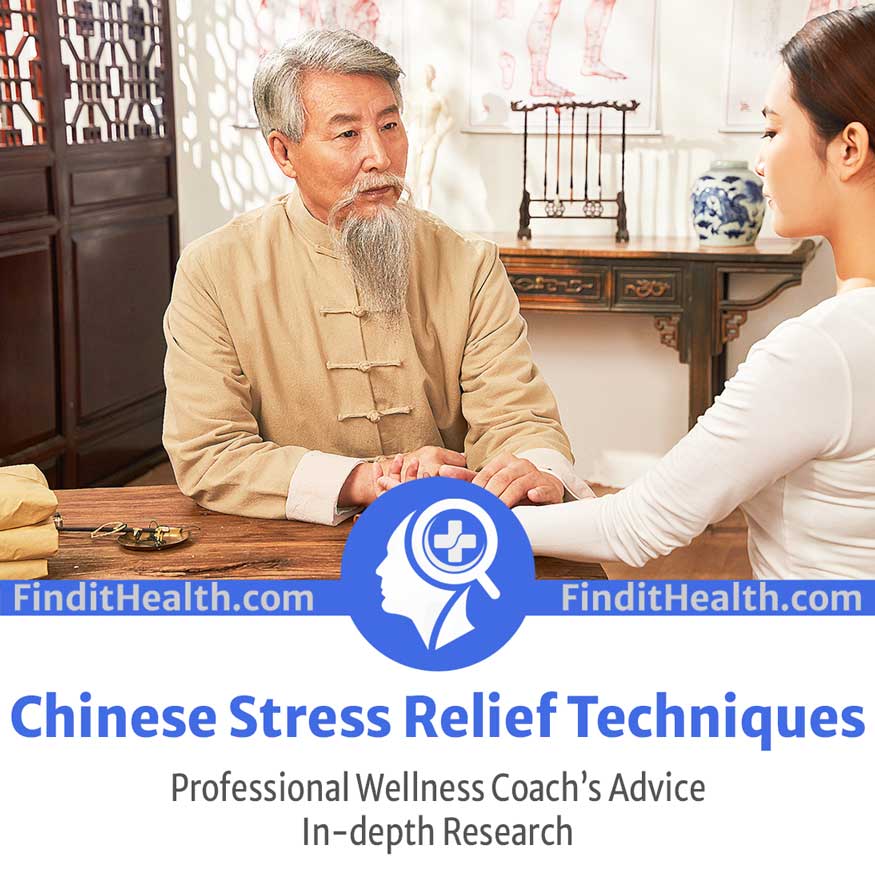 As the director of the wellness coach team at Find It Health, I am going to offer you advice for your optimal health and well-being. You can trust me to guide you on how to lower your stress levels through innovative and alternative techniques.
One of the most popular stress relief techniques is the use of Traditional Chinese Medicine. This diverse field of ancient wisdom includes herbal medicine, massage therapy, and acupuncture.
Our research team at FindItHealth.com has compiled a list of the complementary health approaches and adjuvant treatments you can add to your daily life for effective stress management.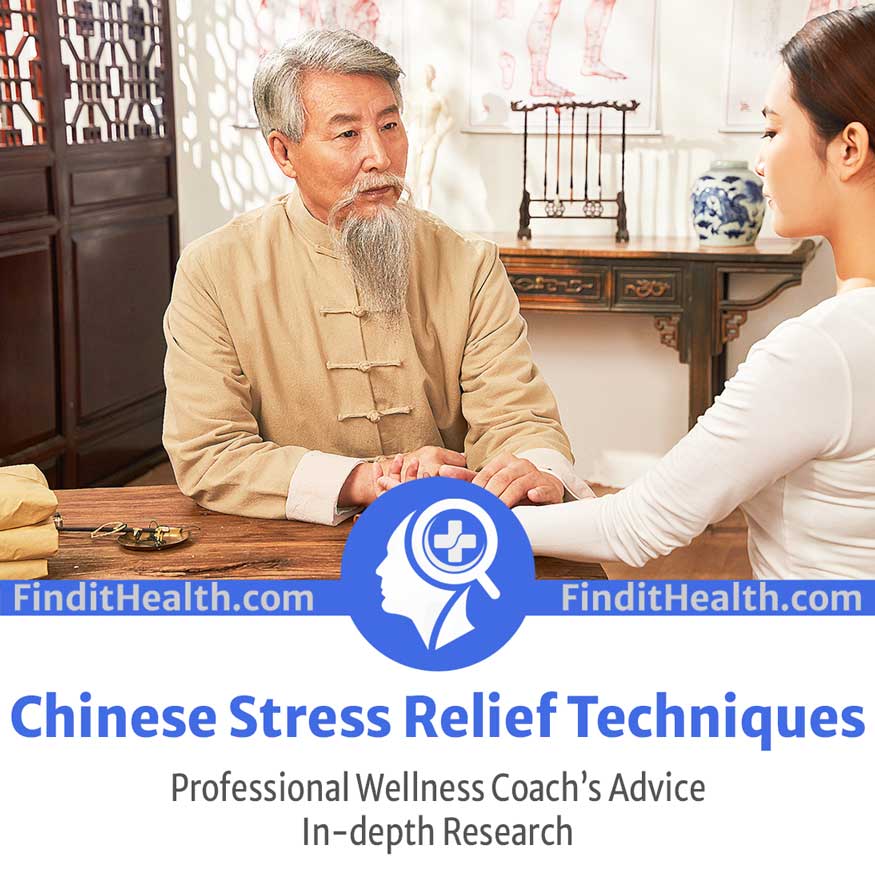 Acupuncture
---

This ancient component of Traditional Chinese Medicine involves the insertion of five to twenty needles in the skin for ten to twenty minutes. Sometimes, heat, pressure, laser light, or Chinese herbs may also be used.
History
This practice is said to have originated in 100 BC in China, and then it spread to Korea, Japan, and Europe. Different acupuncture techniques are followed in different countries, but the Eight Principles TCM and the Ancient Daoist wuxing are still in practice all over the world.
Uses
The four ways to assess a patient are inspection, auscultation, inquiring, and palpation. These principles are employed in several other forms of TCM like acupressure, sonopuncture, fire-needle puncture, and auriculotherapy.
SUBSCRIBE  for FREE STRESS MANAGEMENT TECHNIQUES from our EXPERT COACHES!
Moxibustion
---

Sometimes performed simultaneously with acupuncture, moxibustion is the traditional practice of burning moxa wool on the points of acupuncture.
Uses
This process regulates the flow of qi, blood and energy through the body. Other practices like exercise and yoga have been known to have similar effects but according to traditional Chinese medicine, moxibustion is a very effective way to guide this vital energy through the body and has been used for about 2500 years.
Method
There are three methods in practice currently:
Direct scarring in which the moxa burns until the skin is scarred
Direct non-scarring in which the moxa is removed before the skin is scarred
Indirect moxibustion in which the moxa is held at the end of a cigar or acupuncture needle
SUBSCRIBE  for FREE STRESS MANAGEMENT TECHNIQUES from our EXPERT COACHES!
Cupping Therapy
---

Cupping therapy uses heated cups to create a vacuum at various points around the body. It causes local suction on the skin and is known to be effective against pain and inflammation.
History
The practice of cupping can be traced back to ancient China, specifically the Han Dynasty, as early as 28 AD. Many other cultures such as the Middle East and Egypt have been known to use cupping even before China. It is a type of alternative medicine and is actively practiced to date.
Types and Risks:
The different forms of cupping therapy are dry cupping, wet cupping, massage cupping, and flash cupping therapy. A certain degree of risk for infection exists but not many reports have been published in recent times because safe practices are now employed to prevent harm to the patient.
SUBSCRIBE  for FREE STRESS MANAGEMENT TECHNIQUES from our EXPERT COACHES!
Qigong
---

Qigong is a kind of moving meditation quite similar to modern-age yoga, but this practice is specifically used to optimize the energy of the body and mind. Modern studies have found that qigong improves breathing strength and physical health significantly.
History
Qigong has been a part of traditional Chinese medicine for as early as 2696 BC. It is a form of martial arts that channels the body's strength into achieving better posture, movements, and breathing.
Baoding Balls
Baoding balls are small metal balls used to exercise hand muscles. They are usually used in pairs and are effective in improving clinical symptoms of pain in the hands as well as the wrists. It improves hand motion after an injury and is popularly used in physiotherapy.
The beneficial effects of this practice are evident in increasing the range of motion at hand and wrist joints. There is also a spiritual meaning to the balls such as to bring purifying energy, peace, and well-being.
SUBSCRIBE  for FREE STRESS MANAGEMENT TECHNIQUES from our EXPERT COACHES!
Tui Na
---

Tui Na is a type of adjuvant treatment used along with acupuncture and moxibustion. This form of massage is used to treat pain and illness. It helps relax cramped muscles and joints and increases the ease of motion.
History
It is believed that Tui Na massage is the oldest form of bodywork. Its origins can be traced back to ancient China. Along with acupuncture, qi gong, and Chinese herbal medicine, it is one of the four main branches of traditional Chinese medicine.
Gua Sha
---

Many people seek alternative solutions to their illnesses to avoid taking medicine and Gua Sha is a very effective way to reduce swollen lymph vessels and help regulate lymph flow.
SUBSCRIBE  for FREE STRESS MANAGEMENT TECHNIQUES from our EXPERT COACHES!
Relationship with Qi
Gua sha is derived from traditional Chinese medicine. To feel your best, your qi, or energy, must flow throughout your body, according to Chinese principles. It is believed that health issues can arise when qi stagnates in particular areas. Gua Sha helps regulate that qi.
Herbal Medicine
---

The majority of Chinese herbal remedies are based on plants, though some preparations contain minerals or animal products. Depending on the herb and its intended use, they can be packaged as tablets, powders, pastes, or lotions which can be used for self-care purposes.
Uses
Different herbs are capable of balancing particular body functions and possess different properties. Many herbal teas are known to improve mental health and physical well-being.
Over 300 herbs in common use are routinely employed for the relief of clinical symptoms of gut-related disorders and adjuvant treatment for several kinds of pain relief. This practice dates back to around 2200 years and is strongly believed to help.
Dit Da
The healing and management of injuries is the focus of the Chinese herbalism subfield known as dit da, which is relatively underrepresented in Western medicine. It focuses on dealing with physical trauma.
Dit da is very important for herbalists who deal with sports injuries and martial arts, especially for athletes and martial artists who get hurt. There are a variety of ways to process and extract the herbs used in dit da.
Dit da is frequently applied topically, in contrast to many other clinical herbs, which are cooked and taken internally. Its origins can be traced back to Guangdong, China. It is used for iron palm training and to speed up the healing process for bruises and sprains.
SUBSCRIBE  for FREE STRESS MANAGEMENT TECHNIQUES from our EXPERT COACHES!
Frequently Asked Questions
---


Here are some of the most frequently asked questions from our readers, answered by the research team at FindItHealth.com:
How do Chinese people deal with stress?
They unwind by exercising, listening to music, connecting with others, resting, and listening to music. According to Chinese respondents, spending time with friends and family and listening to music are the most common ways they relieve stress. Taking naps and exercising to calm their nerves are important examples of self-care.
Additionally, Tai chi is a graceful form of exercise that was originally developed in ancient China for self-defense. Today, it is used for stress reduction and various other health conditions and clinical symptoms.
What is the traditional Chinese way of relaxing?
For the treatment of depression and anxiety, acupuncture, herbs, dietary therapy, qi gong, and tai chi are all helpful.
Tai Chi and Buddhist meditation are just a few of the many forms of meditation that help. It doesn't matter if you use acupuncture, herbs, or both; you should always exercise and eat well.
What Chinese herbs are good for stress?
Ginkgo biloba is a well-known Chinese herb that is frequently used worldwide to treat anxiety. Many other herbs including ginseng, dong quai, and astragalus are also used to relieve clinical symptoms of stress.
If you're looking for natural ways to relieve stress, check out this article here.
What is the quickest way to immediately relieve stress according to Chinese medicine?
The quickest way to immediately relieve stress and anxiety according to Chinese medicine is acupuncture.
Acupuncture increases a person's sense of relaxation and well-being and reduces pain by stimulating natural endorphins. It also loosens up tight muscles, which makes it easier to relax.
SUBSCRIBE  for FREE STRESS MANAGEMENT TECHNIQUES from our EXPERT COACHES!
Conclusion – Research by Findithealth.com



Traditional Chinese medicine is used extensively to relieve several kinds of physical ailments. It is a set of effective techniques that are helpful for physical and mental symptoms.
With the rising incidence of anxiety and other health problems, people have turned back to traditional means of symptom relief. Acupuncture, tai chi, and moxibustion are some of the traditional practices you need to add to your daily routine.
SUBSCRIBE  for FREE STRESS MANAGEMENT TECHNIQUES from our EXPERT COACHES!
Luz Chacon
Luz Chacon is a Health Educator, Wellness Coach, and EFT Tapping Practitioner with 30+ years in health advocacy. Specializing in stress management, wellbeing, and holistic health, she created a 40% stress reduction employee program. Luz is dedicated to helping busy individuals prioritize self-care, break patterns, and reach goals. She offers programs for organizations and individuals. Luz is passionate about sharing her health research and guiding informed choices!