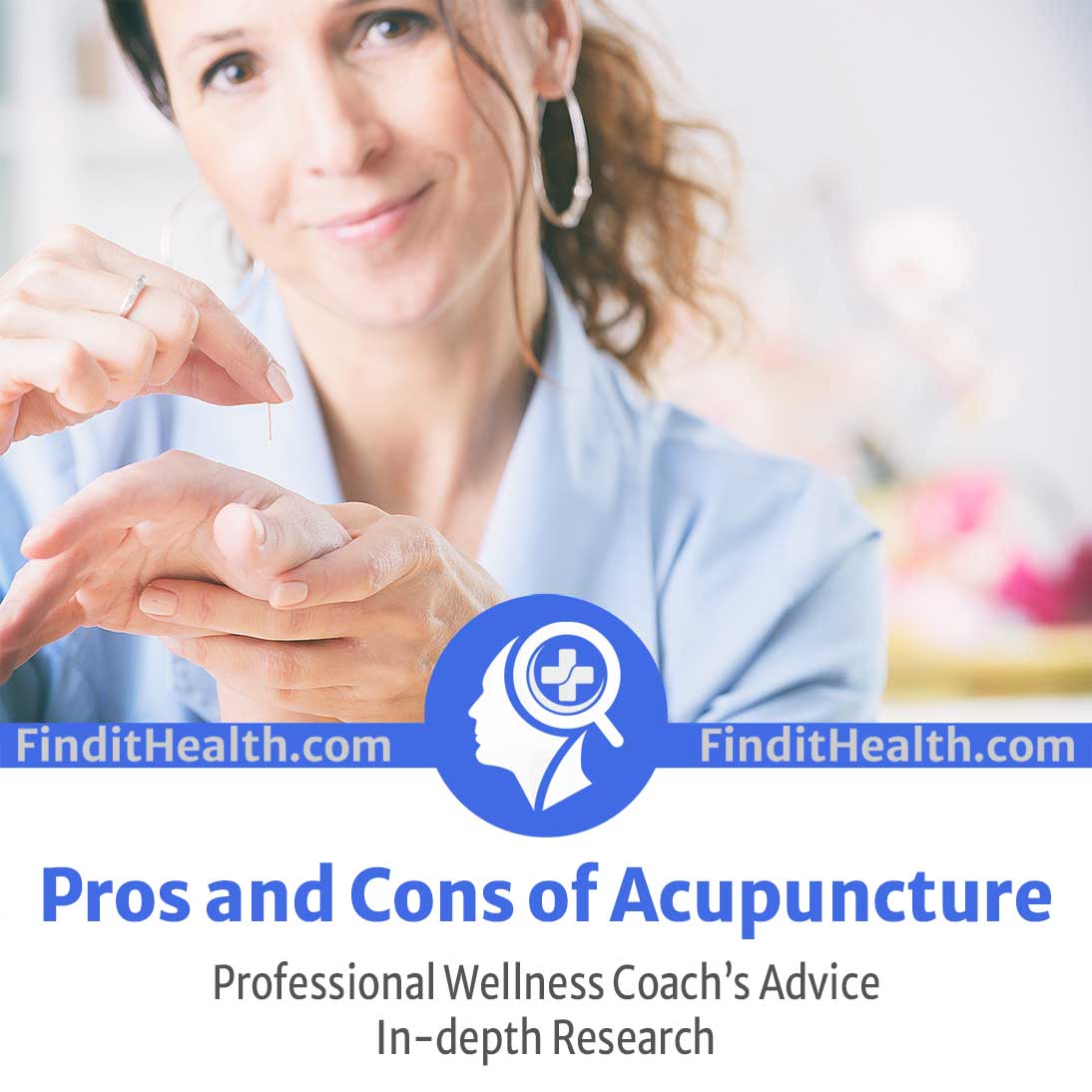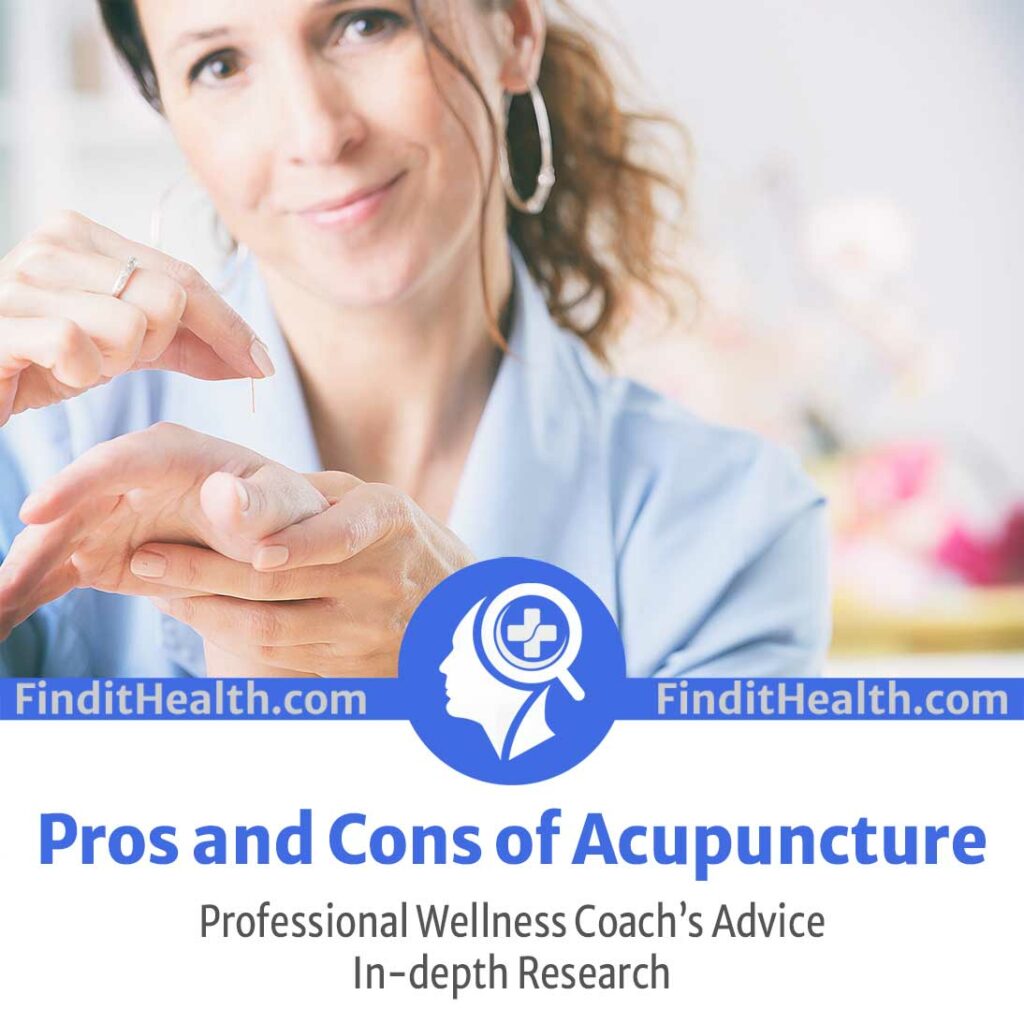 As the head of the Wellness Coach team here at Find It Health, I am here to list and explain all you need to know about the pros and cons of acupuncture.
Our health coach team here at Find It Health relates to your needs and questions on a deep level. We understand the importance of well researched and comprehensive analysis.
With that in mind, enjoy my guide on everything you need to know about the pros and cons of acupuncture.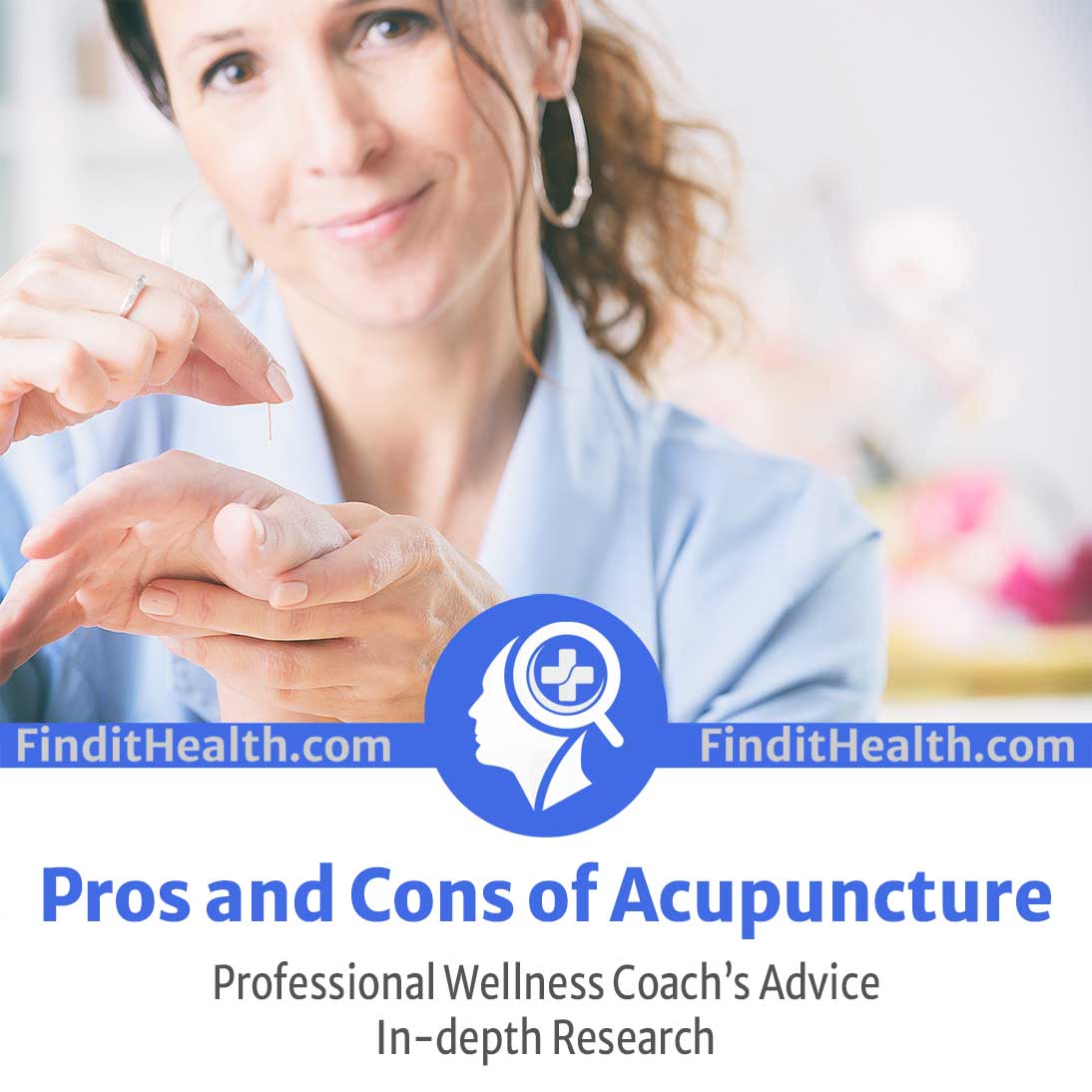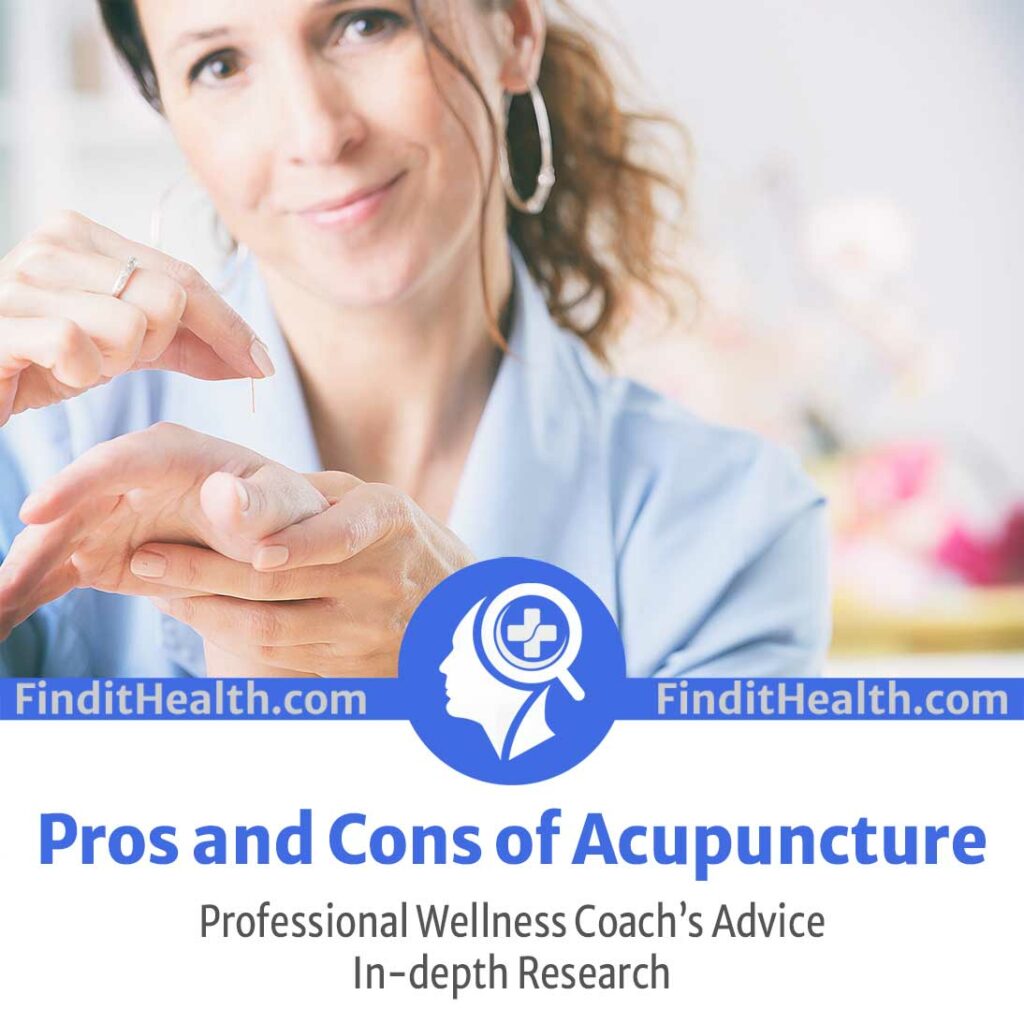 13 Pros of Acupuncture
---

Acupuncture is a widely practiced procedure with a lot of benefits. These are some of its pros:
It Is Free From Chemicals
You do not have to worry about a huge intake of chemicals or drugs with acupuncture. The whole idea and process behind acupuncture is a 100% natural way of inserting really thin needles at specific points (or acupoints) in your body. And if you react a lot to drugs or chemicals, you can stop worrying because you will not have to do that with acupuncture.
In the United States, the norm is only to use disposable sterilized needles, which is a relief.
It Boosts Your Energy Levels
You need at least one acupuncture session to feel your energy levels soar. Acupuncture makes you feel relaxed and full of energy. According to research, acupuncture increases your body's serotonin, dopamine, and endorphins. These hormones are necessary for giving you happiness, stabilizing and balancing your mood, and feeling good all-round.
It Relieves You of General Pain and Discomfort
It is proven that acupuncture helps with chronic pain relief. Patients that face many problems like digestive issues, nausea, sleep problems, and fertility problems have gotten their succor from types of pain after acupuncture. Some studies even show that acupuncture works at the same level (sometimes, it exceeds) as standard, Western, or conventional medicine.
Professionals Do It
Acupuncture is a really delicate and specialized form of Chinese medicine.
In the United States, prospective candidates sit for a national exam. They must pass this exam to become licensed acupuncturists.
You Barely Feel Pain
Needles enter your body during acupuncture sessions, but you will barely feel pain thanks to the acupuncturist's skill. Sometimes, you might not even feel anything. You need to be able to communicate with your acupuncturist and let them know your tolerance levels. That way, they know how to maneuver the needles so you do not feel much pain.
It Reduces Your Stress Levels
Acupuncture is a good stress reliever. One of the primary reasons people seek acupuncture is to relieve themselves of stress. Some verified research shows that acupuncture reduces stress hormone levels and boosts moods, reducing anxiety and other negative feelings.
It Relieves You Of Headaches
Acupuncture can relieve you of severe headaches and migraines.
Some studies have shown how acupuncture is potent for chronic headaches and migraines. Even more effective than prescription drugs.
It Relieves Neck Pain
Acupuncture helps with reducing neck pains. There are points and techniques that acupuncturists carry out that aid neck pain relief.
Your Eye Health Improves
Eye problems are becoming increasingly frequent with the constant rise of modern technology and longer screen times. Acupuncture helps your eye health, reduces eye strain, and improves your vision. People with lazy eyes and night blindness can benefit from acupuncture as well.
Your Mental Health Improves
Because of different factors like stress or trauma, you can start experiencing mental strains which make you unable to think clearly. Acupuncture enhances your mental clarity and boosts your mental health.
Reduced Risk of Neurological Disorders
Parkinson's disease and Alzheimer's disease are a few neurological disorders that acupuncture can help treat. Some studies show that patients with these medical conditions have improved language and motor function due to acupuncture.
Accelerated Healing After Surgery
Acupuncture helps patients who have had surgeries or some medical procedure heal faster. The process causes your body's innate ability to heal.
Reduced Risk of Falling Sick
Acupuncture lowers your risk of falling sick because it triggers your body's natural immune system responses. Once you have regular acupuncture sessions, you will benefit highly from this because you are at less risk of falling sick.
SUBSCRIBE  for FREE STRESS MANAGEMENT TECHNIQUES from our EXPERT COACHES!
Cons of Acupuncture
---

Conversely, there are some cons to acupuncture. These are some of them:
Your Symptoms May Worsen Temporarily
Acupuncture may cause your symptoms to decline for a short while because your body is not used to it, so it will seek to stabilize itself.
Suppose you are not used to acupuncture or just had your first session. In that case, you will likely be overstimulated and sensitive for a few days.
Your Lifestyle Can Change A Bit
This is temporary, but acupuncture can change your lifestyle choices. For example, you can feel sleepier or more/less hungry or more prone to visit the toilet. Again, it is only temporary, so you do not have to worry about anything.
It Might Not Work
Acupuncture is similar to other Western medicine or medical treatments in that it may be ineffective. The recommended duration for acupuncture sessions is a few weeks. Some patients do not see evident changes until after their fifth or sixth session.
Feeling Dizzy or Tired
You might feel this after an acupuncture session. Maybe you did not eat beforehand or worked out and are now really burnt out. You have to speak with your acupuncturist and let them know about any recent or long-term changes you have made.
The Experience of the Acupuncturist
The experience differs when it comes to acupuncturists. Unfortunately, the only way to tell is by having a session with them.
You can talk to acupuncturists beforehand about their procedures or speak to people who've had sessions for recommendations.
It Involves Needles
If you are afraid of or do not like needles, acupuncture might be a challenging treatment option for you. However, acupuncture needles are thinner than a piece of your hair. So, you do not feel them when they go in and out. Acupuncture is typically administered to your back, so you do not need to look at them. Overall, acupuncture needles are not very uncomfortable if you are one of the many people who fear needles.
It Might Take Some Time To Work
Ultimately, the success of acupuncture depends on what you are treating and how consistent you are. So, do not worry if you see no changes after a few acupuncture sessions. Discuss with your acupuncturist beforehand so you know what to expect.
You Might Only Find Community Acupuncture in Your Area
Community acupuncture, as the name suggests, is a new type of acupuncture where several patients are treated in the same room at the same time. This equals less privacy, and that can be uncomfortable.
The Timing May Not Work for You
You may have a hectic schedule. Acupuncture sessions sometimes schedule follow-up treatments, and this can be a problem.
Acupuncture Costs
Acupuncture treatments might be more than your budget.
It Can Cause Infections
Because acupuncture involves needles, there is a risk of infections. You could tell the acupuncturist that you want to see how they sanitize their needles. The sterile needles can also be sealed packages so you can see if that is the case.
Incorrect Inserting of Needles
Sometimes, the needles can be inserted incorrectly, and that can cause physical harm, such as tissue swelling.
Nausea
You might feel nauseous after an acupuncture session. But this is just a temporary feeling and side effect.
SUBSCRIBE  for FREE STRESS MANAGEMENT TECHNIQUES from our EXPERT COACHES!
Frequently Asked Questions
---


What are the cons of acupuncture?
It can be expensive.
There is a risk of infection from needles.
Needles can be inserted incorrectly.
The acupuncturist might not have experience.
It can take time to show results.
What are the negative side effects of acupuncture?
Dizziness
Nausea
Fatigue
Sleepiness/Drowsiness
Frequent visits to the toilet
What are the benefits and risks of acupuncture?
The benefits of acupuncture include the following:
Improved energy flow and energy healing
Reduced risk of heart disease
Heightened energy channels
Reduced stress levels
Relief from chronic pains (joint pains, musculoskeletal pains, etc.)
Improved mental health
Relief from menstrual cramps
Reduced health issues
Therapeutic effects
The risks of acupuncture include the following:
Risk for infection
Incorrect insertion of needles
Unskilled acupuncture practitioners
What is the main criticism of acupuncture?
The main criticism of acupuncture is that it has very little scientific validity in mainstream health-science publications.
SUBSCRIBE  for FREE STRESS MANAGEMENT TECHNIQUES from our EXPERT COACHES!
Conclusion – Research by Findithealth.com



Right from the history of acupuncture, this alternative medicine has helped people with their health concerns. This form of Asian medicine offers you a lot of perks and benefits. Even if it does not work for you, it is still worth a try.
SUBSCRIBE  for FREE STRESS MANAGEMENT TECHNIQUES from our EXPERT COACHES!
Luz Chacon
Luz Chacon is a Health Educator, Wellness Coach, and EFT Tapping Practitioner with 30+ years in health advocacy. Specializing in stress management, wellbeing, and holistic health, she created a 40% stress reduction employee program. Luz is dedicated to helping busy individuals prioritize self-care, break patterns, and reach goals. She offers programs for organizations and individuals. Luz is passionate about sharing her health research and guiding informed choices!