Shoulder Hurts from Dog Pulling? Research About Shoulder Injuries from Dog Walking
Are you looking for a way to relieve shoulder pain from your dog pulling you around the block?
We have the ultimate guide below!
Our team here at FindItHealth.net has uncovered the secrets to dog pulling owner issues and relay them to you in an easy-to-understand format. Enjoy.
My Arm Hurts from Dog Pulling: Our 2 Secrets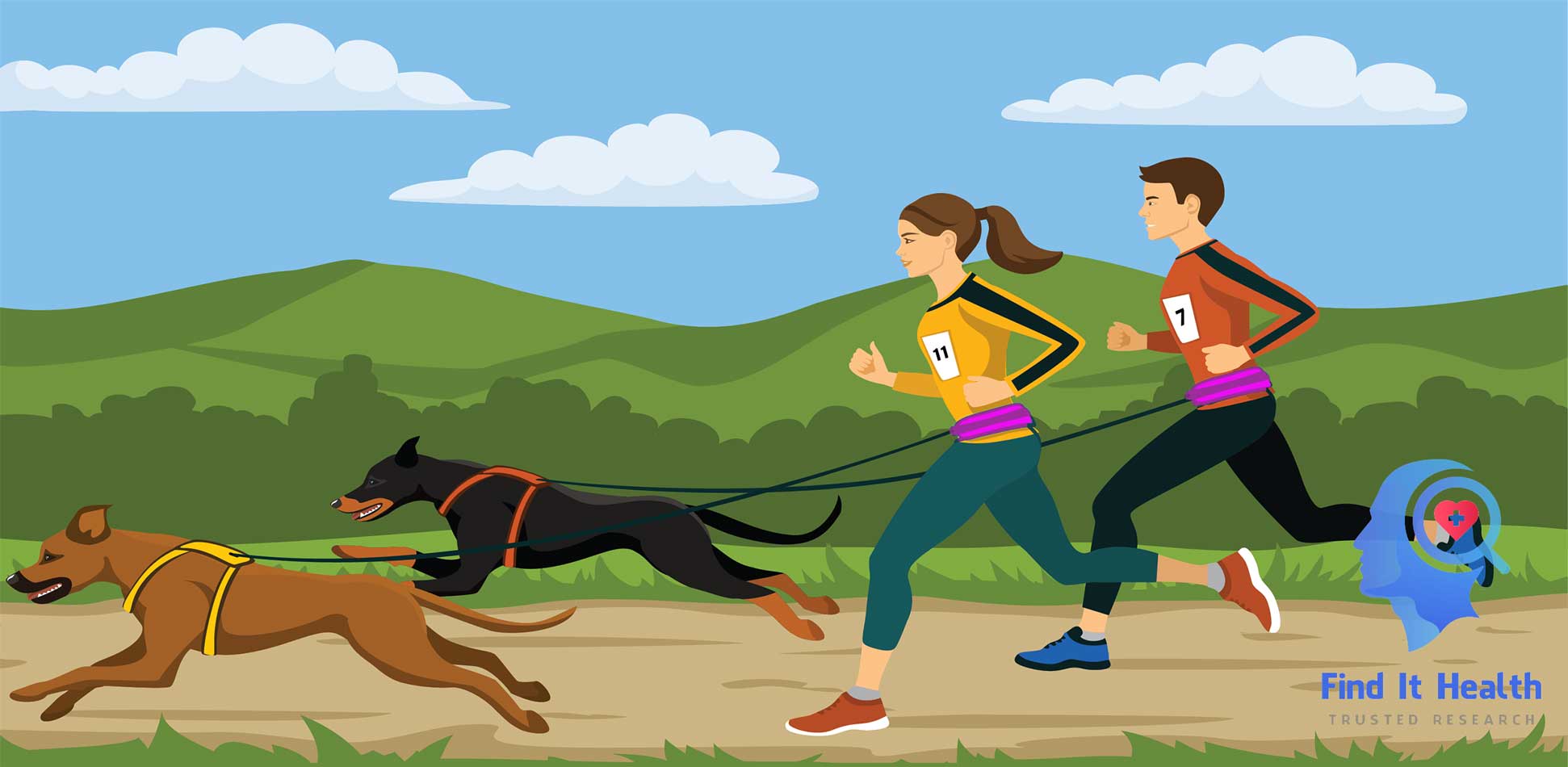 "The dog yanked my arm, and now my shoulder hurts!"
Below are the 2 secrets to solving your dog pulling problems…
While many people concentrate on dog training, there are 2 easy practices that can help reduce shoulder injury from dog pulling on leash issues.
Bungee-style leashes
Hands-free dog walking belt
A bungee-style leash can help, not only because it acts as a shock-absorber for the shoulder muscles and tendons, but because it gives the dog feedback, which is especially helpful with dogs that are learning how to walk their human. With a static leash, they can't exactly feel how far they are away from you. Every pull feels similar on a static leash. But the bungee-style leash lets dogs know when they are approaching the length of the leash. It begins to create tension on the leash as it extends to its full length. The physical feedback of the expanding leash also allows the dogs to learn that they can tug on us without a huge lunge that can hurt us. We can also feel when a dog is starting to pull, even when we are distracted and looking elsewhere, which can help us avoid injury.
A hands-free dog walking belt can pair with a bungee-style leash to protect the shoulder even more. As the dog pulls to find the end of the leash, the tension is transferred to the hips of their human.
Especially wide belts are more comfortable. If the belt is wide, it distributes the pull across the hips. The hips tend to be our larger bones—avoid adjusting the belt on your waist, as that can be uncomfortable on the spinal column, or if big enough, the dog can pull you over.
keep your knees relaxed/ slightly bent (think martial arts) in order to stay balanced.
Certain breeds take longer to build trust, especially if they are adopted. These practices are not meant to replace dog training, especially if the dog is large. But they can help build communication and bonding with a dog that is afraid or simply does not understand how to walk their human.
The most common dog walking injuries include:
Shepards Strain: A common arm injury from your dog yanking the leash too hard while your arm is outstretched. The effect can be painful shoulder dislocation or a sprained wrist. Shoulder muscle and tendons can be damaged by shepherds strain if not treated in the long term.
Tail Wagger Wrist: Fracturing your wrist due to winding the arm around the dog's leash can cause tail wagger wrist. Another cause can be tucking your fingers under the dog's collar while he is moving around.
Shoulder Dislocation and Rotator Cuff Injury: Similar to shepards strain, your shoulder can be dislocated by violent movements from your dog while you are connected to it with the leash. Shoulder dislocation is severely painful and can cause long-term damage to your tendons if no physician is consulted. Whiplash from dog walking may also occur within shoulder dislocation trauma situations, and our article about TENS Units may be able to give you the right product to solve some of your pain issues, give it a read, you might learn some extra tips.
Hip Fractures: According to this JAMA Surgery publication the most common dog walking injury is hip fractures from tripping or falling. Specifically, elderly people that walk dogs with leashes were found to be more prone to injuries because of the strength of the dogs compared to their arms, bringing the owners to the ground quickly; injuring them. Hip fractures usually are felt with lower back pain from dog pulling issues. If you are experiencing sciatica pain, we have an information piece on how to deal with sciatica pain while you sleep.
Frequently Asked Questions: FindItHealth.net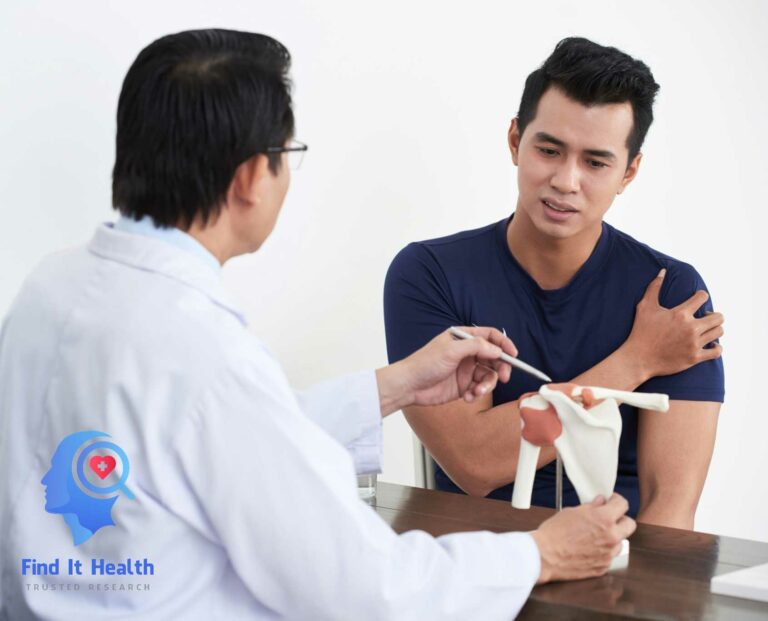 Can a dog pulling hurt your shoulder?
Yes, in the above guide we describe what it is like to have shoulder pain, and the two methods our researchers use in order to decrease the pain in the muscles in your shoulder when walking the pup.
Can walking a dog cause shoulder pain?
Yes, walking a dog can most certainly cause pain for the muscle on your shoulder. The deltoid or trapezius muscles get very tight in old age and can most certainly cause severe pain when walking the dog.
Can walking a dog give you tennis elbow?
Yes, walking a dog can give you tennis elbow, especially if you are holding the leash so tight that the dog often cuts off the circulation in your hand during pulling, which can damage tendons in your forearm arm or elbow.
Can a dog give you whiplash?
Yes, a dog may give you whiplash if you do not "end the game of tug". This is why our health experts here at FindItHealth.net recommend
How do you tell if your dog's shoulder is dislocated?
While this article is focused on whether your shoulder hurts from dog pulling on leash issues, you need to consult a dog expert of a veterinarian that can correctly diagnose a shoulder dislocation for your dog.
What is a shoulder strain?
A shoulder strain is a tear of the ligament that may require surgery as in rotator cuff tears. Most instances of shoulder strains will heal, but it is recommended to visit a medical physician to diagnose any shoulder pain that lasts for more than three days.
Conclusion: Dog Pulling Injuries for Owner - Research by findithealth.com

We close our final thoughts on dog pulling owner issues by telling you again, our recommendations are to get a bungee-style leash and a hands-free dog walking belt to put the leash on. This will make the dog learn to not pull as we describe in our guide above.
The very short tab leashes or the long nylon webbing leash products should be used sparingly in favor of bungee-style leashes that keep the dog closer, reminding him of the separation between dog and dog-walker.
For musculoskeletal issues, shoulder pain is one of the most common reasons to go to the doctor. We recommend using our advice in order to relieve your shoulder problems when walking your dog. Having localized shoulder pain in areas around the shoulder or down your arm is not normal, and walking your dog with pain should not be an issue you are having. If you have enjoyed our research and advice, please check out our article on pulse oximeters. You will learn a thing or two about oxygen monitoring through the night, guaranteed.
JAMA Surgery. (2019). Fractures in Elderly Americans Associated With Walking Leashed Dogs.
Wikipedia contributors. (2021). Shoulder problem. In Wikipedia, The Free Encyclopedia.
Wikipedia contributors. (2021). Leash. In Wikipedia, The Free Encyclopedia.