The Best Pulse Oximeter for Overnight Monitoring: Our Review Team Shows Us The Research
Are you looking for a pulse oximeter that will provide you with overnight monitoring?
We will give you the best pulse oximeter for overnight monitoring in a list of 5.
Our review and comparison team has already gone through them and given us notes on the benefits of each one so you will have all the knowledge we do to make the best pulse oximeter purchase.
If you want to read more of our articles: best pillow for headaches is a publication we've written surrounding another highly controversial health topic.
In this article, we will give you a pulse oximeter for overnight monitoring.
The methodology reviewed the principles of pulse oximetry based on 10 studies (Mengelkoch et al., 1994). It was found that finger probe oximeters are more accurate than the ear probe equipped models. The clinician needs to securely set the probe in order to monitor signal strength. The clinician should be wary of %SPO2 values of 68% to 78% to avoid undetected severe hypoxemia and to know if the patient is a smoker which therein the numbers will overestimate the %SPO2 levels.
The leading decision to put this Masimo oximeter number 1 on our best pulse oximeter for overnight monitoring list is based upon scientific research (Mengelkoch et al., 1994) that Finger probe oximeters are significantly more accurate than all other pulse oximeters during exercise studies. The study found that the probe must be firmly secured in order to monitor signal strength correctly while sleeping.
This is the best pulse oximeter because it is medical grade. When we reached out to a reporter in the health field concerning the Masimo pulse oximeter reputation, we found that many hospitals in the United States and Canada use the Masimo company for recording respiration rate and measuring the Pleth variability index.
According to reports, this is an FDA approved pulse oximeter for medical use. This means that if you know someone that is prone to sleep apnea and serious oxygen level, heart rate, or blood pressure problems; this oximeter will quickly and accurately relay vital signs.
This truly is a brand new technology, and relatively affordable for the medical grade oximeter you are receiving. The only issue we could find was there are software issues with exporting the machine's data history to a CSV file. However, if you don't need such information exported, this is the product for you. Our review team here at findithealth.com fully recommends this product to you as the best medical grade pulse oximeter.
Medical grade pulse oximeter
Excellent manufacturer reputation
Brand new technology
Accurate readings
Difficulty exporting data to a CSV file
For overnight monitoring, especially if you are suffering from sleep apnea; your pulse ox needs consistent and reliable results. Our research (Mendelson et al., 2006) describes that these pulse oximeters have used in combat casualty care. This means that even firefighters use wearable oximeters due to the communication capabilities to transfer arterial oxygen saturation information.
Being accurate is one metric of the best wearable oximeter, but this device is simple to operate and read information from. Our review team tested running on treadmills and various other exercises, and this oximeter from Wellue never fell off. This means that if you know someone that is a heavy sleeper, or someone who tosses and turns in the bed; this pulse oximeter is for them because it is extremely hard to fall off.
This wrist pulse oximeter with alarm capabilities works well. It reads when your blood oxygen dips, and vibrates with an alarm, preventing you from snoring. This is great news If you have sleep apnea or snoring issues because you can have nights with much better sleep. A problem we found is that the app's functionality is lacking in features. If you don't need to rely on the app, we definitely recommend this as the best wearable oximeter.
Accurate readings
Tested on treadmills for tossing and turning patients
Stops snoring
App functionality is lacking
Sleep apnea or COPD can lead to monitoring your oxygen levels overnight. Through our research (Mengelkoch et al., 1994) it is described that finger probe oximeters are the most accurate than all other pulse oximeters. We did the trouble of reviewing this particular wireless pulse ox because of the reported reliability from our in-house review team.
This is the best pulse oximeter for overnight monitoring according to our review team. Within 1-2 seconds, the device will instantly read your pulse and oxygen levels. This will waste you zero time when you are awake, but when you are asleep it helps you manage your sleep and oxygen levels with asthma, allergies, or any other oxygen issues. Nobody on this site's review team has oxygen level issues, but they found that it works for 9+ hours with no issues for overnight monitoring. That's an entire night of accurate monitoring.
When compared to a similarly priced oximeter, not on this list; this one was much more accurate to our review team member's breathing rate. One issue we found was that the app's functionality was lacking so that the app would sometimes malfunction. If you do not need a specific service from the app, then we recommend this iChoice wireless pulse oximeter.
The fastest test on the list
Beat out a similarly priced oximeter from a different brand not on the list
Tested for 9+ hours of accurate testing, for long nights.
App functionality breaks occasionally
Pulse oximeters for overnight monitoring need to have storage for 12 hours of data, and 24 hours or more is preferred. Our research (Mendelson et al., 2006) describes pulse oximeters having important use in combat casualty care, doing a study concerning the communication capabilities to transfer arterial oxygen saturation info quickly.
We highly recommend this Innovo deluxe fingertip pulse oximeter for you or someone with sleep apnea, or any oxygen monitoring needs.
Having a pulse oximeter with alarm for sleeping features is excellent for overnight monitoring. For one, you can change alarm points AND the alarm display. So, for low oxygen rates, or a slow pulse, you can customize any alarm for your liking. The alarm thresholds are a solid benefit because you can easily sleep, and then once your oxygen levels dip, you will be alerted with this alarm for sleeping, which will wake you up.
You don't have to worry about your oxygen levels being too low when you sleep, as the alarms are easily set up; making sure you sleep with the comfort of knowing the pulse ox will do the work for you. The only problem we found was the reported readout was difficult to read on very low batteries. However, if you occasionally recharge your device, this is the wireless pulse oximeter with alarm specifications is highly recommended by our review team.
Completely customizable alarms
Easily set up alarm thresholds
Accurate readings
When the batteries are low, the screen gets difficult to read
The research we conducted made sure that this pulse ox was a solid choice for the people that are visually impaired and easily available for tracking their oxygen levels daily. Further research (Mengelkoch et al., 1994) found that fingertip pulse oximeter devices are substantially more precise than all other pulse oximeters during exercise studies. This means that when you are sleeping, no matter how much you toss and turn, our research found that this pulse oximeter is hard to shake off.
Along with being an FDA-approved medical device, it is simple to operate. Our review team has gone through multiple highly expensive pulse oximeters, to find this Contec pulse oximeter CMS50DL proves that it can match up with some of the devices, not on this list. Our comparisons have come out to give the bottom line that the results are better than some other expensive blood oxygen meter devices.
The biggest benefit is relieving anxiety. You can know your oxygen saturation, or under-oxygenated with a slip-on of this Contec device. It's also cheap, but this device does not sacrifice accuracy, as this is also a well-reported-on product from our review and comparison team here at findithealth.com. The only downside is that finger polish can interfere with more accurate readings. If you need finger polish on when you are using this device, try to keep your hand at chest level, and get your finger as warm as possible for the most accurate reading, and you will have a 100% working product.
FDA-approved for accuracy and reliability
Excellent for kids and adults
Great battery life
Finger polish may cause issues with accuracy
Buying Guide and Information
Overnight Oximetry Equipment
When looking for overnight oximetry guidelines, we have a few that we recommend you follow. The accuracy and reliability of the product should be reported as excellent. If the brand is trustworthy, you should be able to tell via reviews or through research reports.
The display should be large and clear enough, giving you enough reading room to get the information you need quickly. The durability is also important to look at, with a device that needs to provide accurate readings after months and years. With these guidelines put into place, you should be able to buy the best pulse oximeter overnight recording units you need.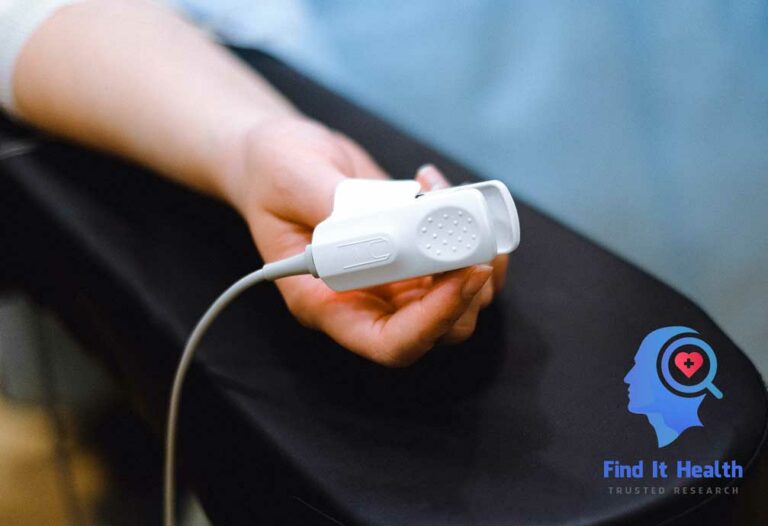 Fingertips have higher blood flow rates than other tissues, respectively. The fingertip pulse oximeter passes two wavelengths of light through the fingertip to a photodetector. After the reading is completed, remove your finger from the device.
The oxygen saturation is measured in the data. This means that the concentration of oxygen through the tissue is measured along with the arterial oxygen saturation through pulse oximetry.
Oximeter with Alarm for Sleeping
Having a pulse oximeter with an alarm for sleeping features is exceptional for overnight monitoring. From changing alarm points to having an alarm display, we found this product for having a great alarm.
The linked pulse oximeter unit can measure oxygen rates, pulse, but it is truly customizable when it comes to alarms. You can pre-set whichever threshold you want for the best oxygen saturation monitor you can buy with an alarm.
Blood Oxygen Sensor Research
According to our research (Mengelkoch et al., 1994) It is shown that the best blood oxygen monitor devices are the ones that probe on your finger. These are significantly more accurate than all the other pulse oximeters, even during rigorous exercise studies. It is important to buy a medical grade pulse oximeter so that you can take advantage of this noninvasive method of monitoring your oxygen saturation. You can also read your arterial blood gas analysis, which is important when factoring in the mechanism and mode of operation that accompanies the use.
What is the best sensor for overnight monitoring?
This product, which can be attached to your fingertips is the perfect pulse oximeter for overnight monitoring because of its accuracy, durability, and is widely used in North American hospitals as FDA medically approved.
Are pulse oximeters accurate?
Yes. The fingertip pulse oximeter products that we've reviewed are measured in a lab to adjust for slight discrepancies. However, the cheaper you get in brands, the less likely you are to get a very reliable reading of oxygen saturation. So just stick with our list, or contact us for a specific rundown of the device of your choice.
Are pulse oximeters FSA eligible?
Are pulse oximeters accurate for heart rate?
Yes. The higher level of accuracy rate for heart rate is attributed to the guidelines we've researched in the article above. For instance, the brand name, durability, certifications can all be factors for accuracy. According to the research above, we've found that the fingertip oximeters are more accurate than other types of oxygen saturation monitors.
Are pulse oximeters safe?
Yes, and the pulse oximeters we provide are FDA approved when mentioned in our article. The fingertip sensor oximeters are even more accurate according to our research above in our article.
Tests and Research by findithealth.com
Finally, we want to give you why we do this. Our relevant and shareable health information, especially pulse oximeter research is here being shown to you for a reason. Our purpose is to give you the answers to your questions. That's why we take the time to do hard work; academic research for every product and have our dedicated team of reviewers and data comparison experts to make sure that a certain health product is a right choice for you.
If you need more articles about important health products, this publication concerning the best shoes for hurting feet is relevant to what we write about in terms of helping our community.
Mendelson, R. J. Duckworth and G. Comtois. (2006). "A Wearable Reflectance Pulse Oximeter for Remote Physiological Monitoring," 2006 International Conference of the IEEE Engineering in Medicine and Biology Society, 2006, pp. 912-915. 10.1109/IEMBS.2006.260137
Mengelkoch, Daniel Martin, John Lawler. (1994). A Review of the Principles of Pulse Oximetry and Accuracy of Pulse Oximeter Estimates During Exercise, Physical Therapy, Volume 74, Issue 1, 1 January 1994, Pages 40–49, https://doi.org/10.1093/ptj/74.1.40
Wikipedia contributors. (2021, January 4). Oxygen saturation. In Wikipedia, The Free Encyclopedia. Retrieved 03:05, June 28, 2021, from https://en.wikipedia.org/w/index.php?title=Oxygen_saturation&oldid=998252652
Wikipedia contributors. (2021, June 12). Pulse oximetry. In Wikipedia, The Free Encyclopedia. Retrieved 03:05, June 28, 2021, from https://en.wikipedia.org/w/index.php?title=Pulse_oximetry&oldid=1028266683