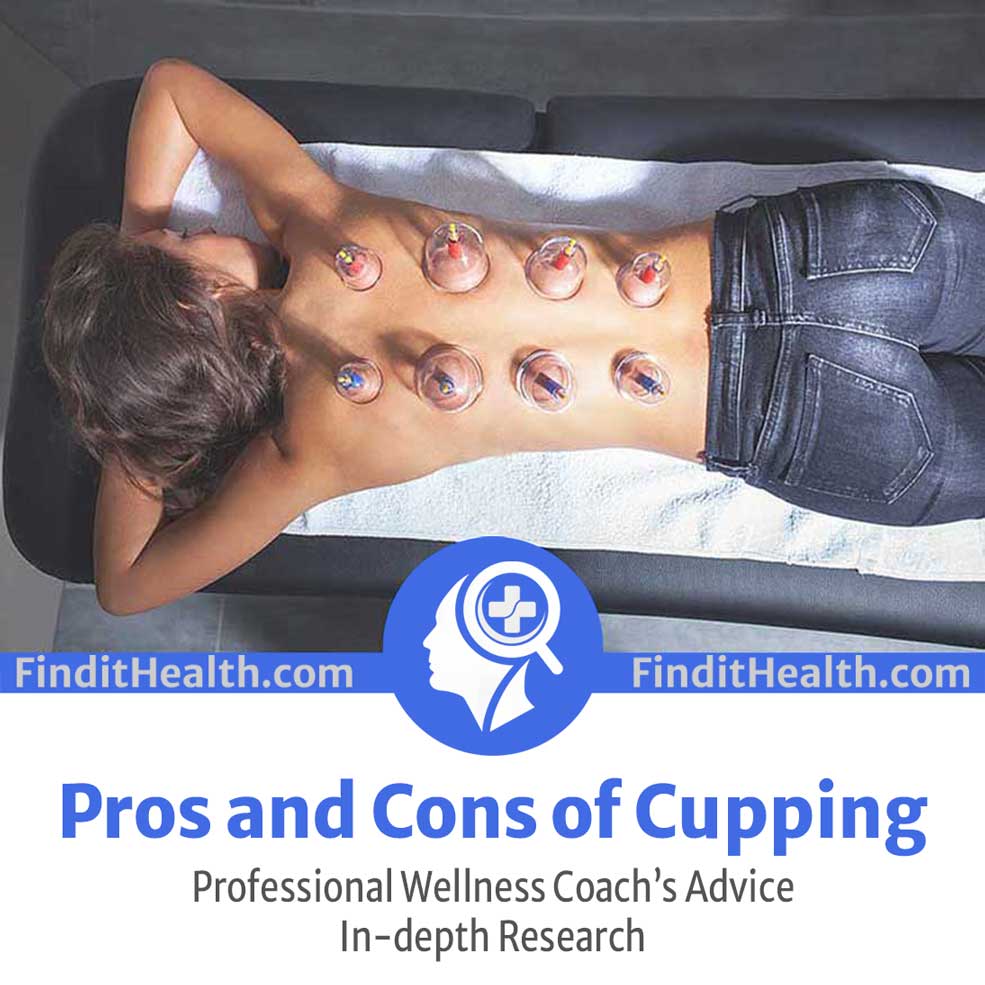 As the main wellness coach here at Find It Health, I would like to provide you with unique and well-researched insights into the pros and cons of cupping, an ancient healing practice that's recently gained traction.
Whether you're looking to reduce muscle tension, improve sleep quality, or detoxify your body, I'm here to give you my advice as a wellness coach.
This article will discuss the pros and cons of cupping, the main benefits, and the considerations you should be aware of before trying it out. Read on to find out more.
Cupping Pros
---

Cupping can provide relief from a wide range of ailments and illnesses. The main pros include the following:
Reducing Pain and Muscle Tension
Cupping therapy is a great way to overcome pain and discomfort. It has been proven effective in relieving lower back, neck, and shoulder tension, as well as muscle tightness.
Detoxifying Your Body
Your body is exposed to approximately 700,000 toxins on a daily basis.
Cupping therapy helps your body get rid of these unwanted toxins, which can help you feel healthier and more energized.
Can Improve Your Sleep Quality
Quality of sleep directly affects your overall health. This non-surgical treatment helps reduce stress, relaxes the body, and can help you sleep better at night.
Improves Blood Circulation
Cupping therapy can help improve your blood circulation by opening up the vessels and allowing oxygenated blood to flow freely. This can speed up the healing process for various painful conditions, such as bruising or muscle spasms.
Respiratory Benefits
For people who suffer from respiratory issues such as asthma, bronchitis, or common cold, the practice of cupping can help relieve congestion and clear the lungs. The suction from the glass cups helps to loosen phlegm and mucus, making it easier to breathe.
Boosts the Immune System
Cupping therapy can boost the immune system by triggering the production of white blood cells.
Elevated white blood cell levels equip your body to fend off infections, preventing them from escalating into serious health crises.
Reduces Stress
Everyone wants to feel less stressed and relaxed. Cupping therapy can help you achieve that by stimulating the release of endorphins, your body's own "happy hormones."
Helps to Alleviate Chronic Fatigue Syndrome
By improving blood circulation and reducing inflammation, this ancient practice has provided much-needed relief for individuals struggling with chronic fatigue syndrome.
Treating Urinary Diseases
Cupping therapy can also help treat urinary diseases such as kidney stones, abscesses, and urine retention. This is done by placing cups on the lumbar region, which stimulates blood flow to the kidneys and bladder that in turn helps to flush out toxins.
SUBSCRIBE  for FREE STRESS MANAGEMENT TECHNIQUES from our EXPERT COACHES!
Cupping Cons
---

Although cupping therapy has numerous benefits, there are some potential risks and considerations that should be taken into account.
Potential Risk of Burns
This can increase the risk of burns, especially if the cups are left on for too long.
Possible Skin Discoloration
The suction from the cups can cause red or purple discoloration on your skin due to burst capillaries.
Luckily, this is typically a transient side effect that subsides after a few days. Nonetheless, individuals with sensitive skin ought to bear in mind this potential risk and take preventative measures before selecting the treatment.
May Not Be Suitable for Everyone
Cupping therapy may be unsuitable for people with certain medical conditions such as high blood pressure, heart disease, or skin infections. It is essential to consult your doctor before trying this form of therapy.
The Treatment is Not Covered by Insurance
Cupping therapy can be expensive, as it often requires multiple sessions to be effective and is not typically covered by insurance.
This can make it inaccessible for some individuals who cannot afford the treatment.
SUBSCRIBE  for FREE STRESS MANAGEMENT TECHNIQUES from our EXPERT COACHES!
Does Cupping Actually Work?
---

Cupping has been used for centuries; however, the effectiveness of cupping therapy is still inconclusive. While some studies suggest that it can benefit specific ailments, further research is needed to understand its effectiveness correctly.
If interested in trying out this treatment, it is essential to consult a qualified healthcare professional beforehand, as with any medical intervention.
SUBSCRIBE  for FREE STRESS MANAGEMENT TECHNIQUES from our EXPERT COACHES!
Cupping Benefits
---

Cupping therapy can provide the following benefits:
Relief from muscle tension and pain.
Increase in blood flow.
Reduced inflammation.
Improved sleep quality.
Detoxification of the body.
Improved digestion.
SUBSCRIBE  for FREE STRESS MANAGEMENT TECHNIQUES from our EXPERT COACHES!
Purpose Of Cupping Therapy
---

The purpose of cupping therapy is to promote the body's healing process by creating suction on the skin.
This suction helps to release toxins, improve blood circulation, and reduce inflammation. Cupping therapy can also help to relax tense muscles and improve sleep quality.
SUBSCRIBE  for FREE STRESS MANAGEMENT TECHNIQUES from our EXPERT COACHES!
Dangers Of Cupping
---

It is important to note that cupping therapy, like any other medical treatment, can have potential risks and side effects. Some of the dangers of cupping therapy include the following:
Burns
Cupping therapy involves the use of fire to create suction inside the cups. If the cups are not placed correctly, or the flame is not extinguished effectively, it can lead to burns.
Skin Infection
If the cups are not sterilized between each use or if the skin is not cleaned properly before treatment, it can lead to infections.
Proper skin cleansing and sterilization of cups between each use are crucial to minimize the risk of infection.
Bruising
Cupping therapy can cause bruises, which can be painful and unsightly.
Skin irritation
The suction from the cups can cause skin irritation and blistering, especially in people with sensitive skin.
Nausea
Some people may feel nauseous during or after a cupping session, possibly due to the release of toxins in the body.
SUBSCRIBE  for FREE STRESS MANAGEMENT TECHNIQUES from our EXPERT COACHES!
Can Cupping Cause Blood Clots?
---

Cupping therapy does not typically cause blood clots. However, there is a risk of bruising and broken capillaries due to the suction of the cups.
It is important to consult a healthcare professional before trying cupping therapy if you are at risk for blood clots or have any other medical issues.
SUBSCRIBE  for FREE STRESS MANAGEMENT TECHNIQUES from our EXPERT COACHES!
Cupping Therapy On Legs
---

While cupping therapy has traditionally been used for joint pain relief, it can also improve circulation and reduce muscle tension in specific areas, such as the legs.
Below are some benefits and real-life experiences of how cupping therapy has been used to reduce muscle tension and improve circulation in the legs:
Benefits of Cupping Therapy on Legs
It Can Ease Pain and Stiffness in the Muscles
When cups are applied to the legs, the suction created by them can pull up the skin and underlying tissues, which can help to loosen tight muscles and relieve tension.
Cupping Therapy Can Help Reduce Cellulite
Cellulite is a skin condition that causes your skin to appear dimpled, giving it a lumpy texture. The cause of this condition is the fat that pushes through the connective tissues of your skin.
Cupping therapy can improve circulation and break up the connective tissues, ultimately reducing cellulite's appearance.
People With Varicose Veins May Find Benefit From Cupping Therapy
The suction the cups create can help break up blood clots and improve blood flow in the affected area.
Case Studies and Real-Life Experiences
Many athletes and celebrities have publicly spoken about the benefits they experienced with cupping therapy.
For example, Olympic gymnast Alex Naddour credits cupping therapy as part of the reason for his success in the 2016 Olympics.
Actress and health advocate Gwyneth Paltrow also showed various cupping marks during red-carpet events, noting its effectiveness in promoting a healthy body.
Additionally, our research team here at Find It Health has found that cupping can help reduce chronic pain, improve muscle recovery time, and increase athletic performance.
All of these reports can provide valuable insight into how cupping therapy may help people with various health conditions, including cellulite and varicose veins.
SUBSCRIBE  for FREE STRESS MANAGEMENT TECHNIQUES from our EXPERT COACHES!
Frequently Asked Questions
---


What are some cupping pros?
Eases neck pain, back pain, and headaches.
Improves blood circulation to specific areas of the body, enhancing overall health and well-being.
Induces a relaxed state, making it a helpful tool for stress relief and relaxation.
It is a non-invasive and natural treatment that relies on the body's healing mechanisms.
It can be combined with other treatments, such as acupuncture or massage therapy, to enhance its effectiveness.
Cupping therapy can stimulate digestive function, making it an effective treatment for digestive issues like bloating, constipation, and diarrhea.
By promoting blood flow and lymphatic drainage, cupping therapy can improve skin appearance and minimize the appearance of scars and wrinkles.
What are some cupping cons?
Temporary bruising or discoloration.
Skin irritation.
Risk of infection.
Mild pain or discomfort.
Requires multiple sessions, which can be time-consuming and expensive.
Despite its long history of use, there is limited scientific research on the effectiveness of cupping therapy.
Not suitable for specific medical conditions such as bleeding disorders or sensitive skin.
What are disadvantages of cupping?
Cupping therapy can leave noticeable bruises or circular marks that can be uncomfortable or embarrassing.
Mild pain or discomfort: The suction applied through cupping can cause discomfort during the session and soreness afterward.
Using heated cups on the skin increases the risk of infection if proper hygiene and sterilization protocols are not implemented.
Cupping therapy alone may not be enough to treat some conditions, such as kidney stones, and must be used in conjunction with other therapies and medical treatments.
May not be safe for everyone: Cupping therapy may not be safe for some individuals, including those with sensitive skin , bleeding disorders, or those taking blood-thinning medications.
Is cupping good for your body?
Yes, cupping therapy has some potential benefits for your body, but it should be used with caution and under the supervision of a health care professional.Given the risks involved, it is important to ensure that the treatment is performed correctly and that any potential side effects are monitored.
SUBSCRIBE  for FREE STRESS MANAGEMENT TECHNIQUES from our EXPERT COACHES!
Conclusion – Research by Findithealth.com



Cupping therapy is a popular and ancient form of traditional Chinese medicine used for centuries to help treat various chronic conditions.
It can help improve blood circulation, reduce inflammation, and promote overall wellness. However, it can also cause temporary bruising or discoloration of the skin and is associated with certain risks, such as mild pain and discomfort.
Before trying cupping therapy, it is important to speak with a health care professional about the potential risks and health benefits to make sure it is right for you.
In addition, the therapy should always be done with a qualified and licensed professional who is trained in proper techniques and sterilization protocols.
It is best to get more information before you decide if this therapy is right for you. With the right knowledge and precautions, cupping therapy can be a beneficial part of an overall wellness program.
SUBSCRIBE  for FREE STRESS MANAGEMENT TECHNIQUES from our EXPERT COACHES!
Luz Chacon
Luz Chacon is a Health Educator, Wellness Coach, and EFT Tapping Practitioner with 30+ years in health advocacy. Specializing in stress management, wellbeing, and holistic health, she created a 40% stress reduction employee program. Luz is dedicated to helping busy individuals prioritize self-care, break patterns, and reach goals. She offers programs for organizations and individuals. Luz is passionate about sharing her health research and guiding informed choices!