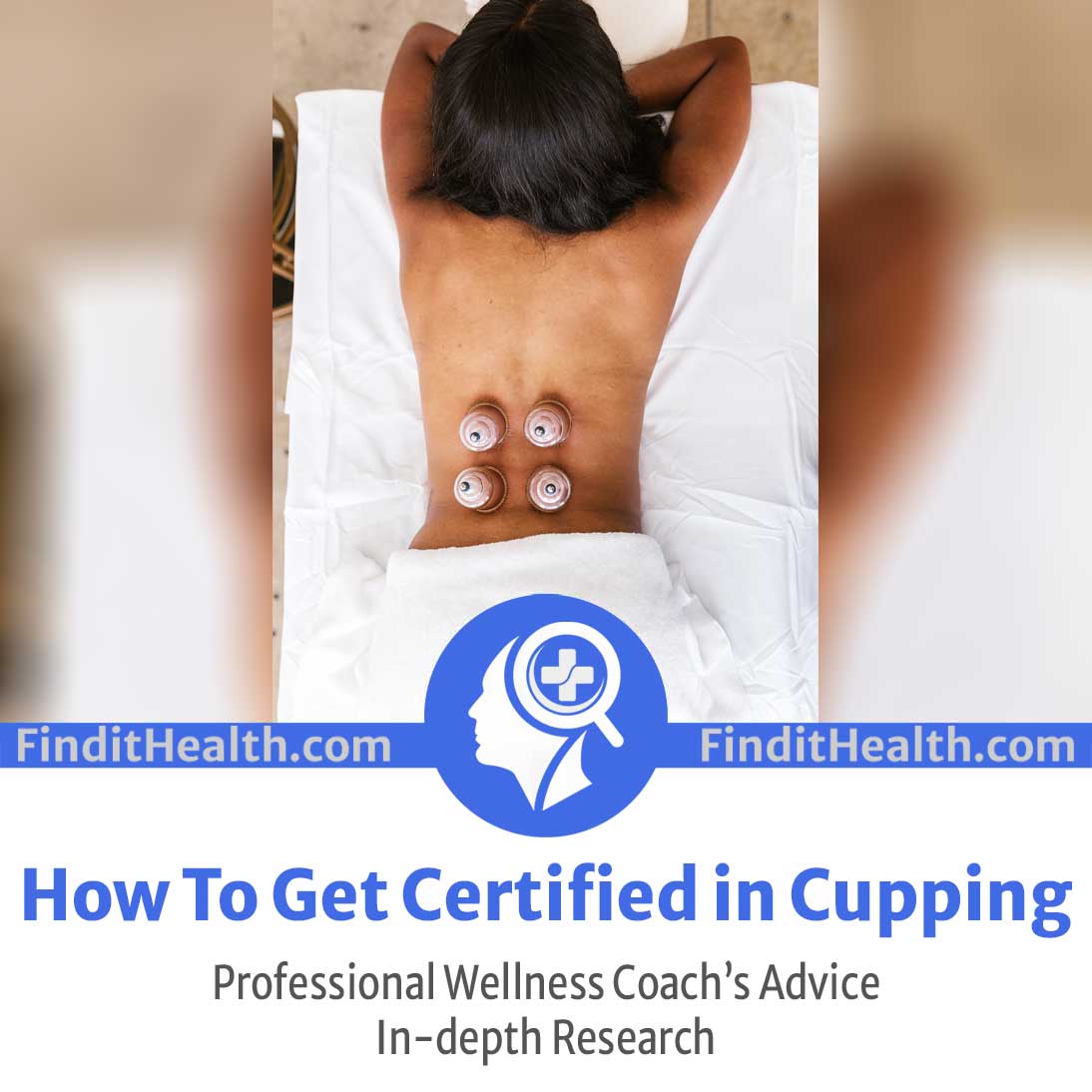 As the head of the Wellness Coach Team at FindItHealth.com, I aim to provide the latest information on how to get certified in cupping.
The ancient practice of cupping therapy has been linked with many health benefits like managing chronic pain, increasing blood flow to vital organs, accelerating sports recovery, etc.
Our research team has compiled a list of certifications to help you learn and understand the art of cupping therapy.
Best Cupping Certifications
It is essential to have a proper cupping certificate before you start practicing on clients. We suggest finding a well-reputed institute with an accredited cupping course to enroll in. The following are the best establishments to get your cupping certificate from:
The Cupping Therapy Clinic by Integrated Training Institute
Integrated Training Institute is an allied health sciences educational firm in Singapore that offers long and short cases on several fitness and health techniques including cupping.
Its Cupping Therapy Clinic (CTC) is focused on learning the advantages of cupping along with the basic cupping techniques. It is a 2.5-day workshop that teaches the Eastern and Western approaches to cupping and the use of cupping to relieve pain, streamline movements, stimulate blood flow, and boost performance.
ACE Massage Cupping Therapy
ACE Massage Cupping Therapy makes use of traditional cupping tools with a modern technique. This therapy uses suction and negative pressure to improve lymphatic drainage, deal with taut muscles, lift connective tissues, and enhance blood flow through the body.
ACE offers a course to learn fundamental and advanced cupping methods including facial cosmetic cupping, deep tissue release, micro-magnet cupping, and more. Additionally, it teaches cupping of the full body from face to feet.
This course will educate you in the history of cupping and its applications.
Fundamentals of Modern Cupping Therapy by MCT
MCT or Modern Cupping Therapy is an institute approved by the New York State, the California Board of Acupuncture, and the Texas Physical Therapy Association. This course is different from others as it has ditched the Traditional Chinese Medicine technique of wet cupping therapy.
It offers live workshops so that you can learn directly from qualified massage therapists, modern cupping therapists, and vacuum therapy practitioners. 
Its Fundamentals of Modern Cupping Therapy is a two-day course for licensed healthcare therapeutic practitioners. So, you can learn the science and physiology of cupping, indications, contraindications, safety, patient evaluation, and full-body cupping techniques.
SUBSCRIBE  for FREE STRESS MANAGEMENT TECHNIQUES from our EXPERT COACHES!
Online Options
Online courses are also available for getting certified in the different types of cupping therapy. Platforms like Udemy and Coursera host several such courses that teach you the basics of massage therapy and the art of cupping therapy.
Some options to explore are:
Professional Cupping Therapy and Massage Course (Udemy)
Udemy is an online educational organization that has a variety of courses on massage and cupping therapy. Its Professional Cupping Therapy and Massage Course includes 4 sections with twenty lectures of 24 minutes each.
The course teaches the history, uses, precautions, and working principles of cupping along with the different types of cups and their applications. You can also learn about the various conditions for which cupping can be used therapeutically and the expectations, results, and after-effects of cupping.
This course is perfect for massage therapists, acupuncturists, and medical professionals who commonly deal with
An on-demand video, and 5 self-learning resources are also available with this course.
Cupping Therapy Diploma Course (Centre of Excellence)
Centre of Excellence is an organization where people from different fields and disciplines come together and share resources in fields ranging from business to wellness.
One of the courses it offers is Cupping Therapy Diploma Course in which you get access to a 10-module system with 4 videos, a study group, an accredited course outline, and a certification exam. You can learn everything from the theory and practice of cupping to the setting up of your own cupping business.
Moreover, there is no need for any prior degree for enrollment in this course. People can learn cupping here from scratch. It includes all Traditional Chinese Medicine cupping, Hajima, and modern cupping.
Cupping Massage Mastery Course
Cupping Massage Mastery Course is a cupping course by Morgan, an orthopedic massage therapist with a national board certification for therapeutic massage and bodywork.
This course offers more than a dozen cupping techniques for the treatment of conditions like knee pain, back pain, sciatica, sports injury, and more. Additionally, it teaches the integration of silicone cups into massage therapy.
This online course is for licensed massage therapists, body workers, and other health professionals.
NAT Massage Cupping Certification Course (18.5 CEUs)
Niel Asher Education is an online platform that provides courses on several natural alternative therapies including cupping.
Its Massage Cupping Certification Course has 4 modules; 1st two are taught by Vicki Ramsdell who teaches the mechanism of cupping, its pressure, advantages, contraindications, the care of cupping marks, and spa cupping massage. The 3rd module teaches vacuum cupping, and the 4th module has an online exam and certificate of achievement.
Moreover, the material of the course is available as both videos and written notes.
SUBSCRIBE  for FREE STRESS MANAGEMENT TECHNIQUES from our EXPERT COACHES!
What Type Of Training Do You Need?
Although cupping can be learned by complete beginners, its courses are mostly for people who already have information about the basic physiology and anatomy of the human body and pressure points. Moreover, some courses are only for physiotherapists, acupuncturists, massage therapists, and medical professionals. If you know acupuncture, you can complement it with the practice of reiki.
Depending on the level of the course (basic or advanced), there is training available on the basics of cupping, cupping applications, contraindications of cupping therapy, a variety of techniques used in cupping, and practical skills.
How To Find A Certification Course
A certification course on cupping can be searched on the internet or in your surrounding areas. Moreover, you can ask your healthcare provider if they work in close relation with a certified cupping specialist.
In the course, you can match your requirements, education, level of skill with the techniques taught by a course. If you chose to learn reiki as well, here is how to tell if your attunement reiki worked.
SUBSCRIBE  for FREE STRESS MANAGEMENT TECHNIQUES from our EXPERT COACHES!
What Is A Cupping Certification Class?
A cupping certification class is a course offered by institutes in which cupping professionals and licensed cupping therapists teach the art of cupping therapy to massage therapists, or medical professionals who want to learn it for their career, or to wellness enthusiasts who want to apply the principles of cupping at home.
Such courses provide a certificate after successful completion of the course. Sometimes, an exam may be conducted at the end of cupping certification classes to assess the students and allow them to work professionally. Certification courses in acupuncture are also available.
What Does It Cost?
Cupping Therapy Certification can cost anywhere between $75 for beginner courses and $800 for more specialized training. Also, the cost depends on the number of sections or modules provided in a course and the number of hours a training program offers. The costs also depend on how often you go for classes in a week.
How Long Are Cupping Certification Classes?
Traditionally, education courses on cupping therapy can take a few hours to complete, beginning with the fundamentals of massage therapy and moving on to the cupping technique.
However, certification courses from accredited special skill schools typically involve classes over two days with 20 hours of hands-on practice with clients. 
SUBSCRIBE  for FREE STRESS MANAGEMENT TECHNIQUES from our EXPERT COACHES!
How To Find A Certified Cupping Therapist Class?
You can find a certified cupping therapist class online or at a community college near you. Moreover, you can ask your friends or colleagues who have similar interests.
However, check out the teachers' credentials and the institutes' verification before enrolling yourself in any cupping class. Check out the reviews by other students who previously took the course.
Once you get certified in cupping, be sure to counsel your clients to avoid exercise after a rigorous session.
FindItHealth.com: Frequently Asked Questions
How do you get certified in cupping?
You get certified in cupping by taking a verified course in cupping, practicing it, and taking an exam. A course may take between 3 to 12 months to complete, if you're learning from scratch. Additionally, you can take online or on-campus classes.
Courses in cupping are taught by institutes like Modern Cupping Therapy, Udemy, Centre of Excellence, ACE, etc.
Can cupping be done by anyone?
Dry cupping can be done by massage and manual therapists, acupuncturists, medical professionals, and those with an understanding of musculoskeletal anatomy. However, in the United States, wet cupping therapy can only be done by a licensed medical professional
How long does it take to learn Hijama?
It takes around 250 hours over the span of 3 to 12 months to learn Hijama from scratch. However, if you are already a licensed massage therapy provider, all you need to do is complete a three-day certification course to start practicing Hijama.
Can you learn cupping at home?
Yes, cupping can be learned at home by practicing either on yourself or with a partner with commercially available kits. Online certification courses can be completed at home, but we suggest talking to your healthcare provider and a licensed professional before experimenting with advanced cupping therapy massage. If you feel worse after a session, get medical advice immediately.
SUBSCRIBE  for FREE STRESS MANAGEMENT TECHNIQUES from our EXPERT COACHES!
Conclusion
You can get certified in cupping only after learning the fundamentals of massage therapy. You can choose live or online cupping courses to understand the art of cupping, to gain experience, and to receive a certificate of completion. You may also want to take this chakra quiz to understand your body on a more profound level. 
SUBSCRIBE  for FREE STRESS MANAGEMENT TECHNIQUES from our EXPERT COACHES!
Luz Chacon
Luz Chacon is a Health Educator, Wellness Coach, and EFT Tapping Practitioner with 30+ years in health advocacy. Specializing in stress management, wellbeing, and holistic health, she created a 40% stress reduction employee program. Luz is dedicated to helping busy individuals prioritize self-care, break patterns, and reach goals. She offers programs for organizations and individuals. Luz is passionate about sharing her health research and guiding informed choices!