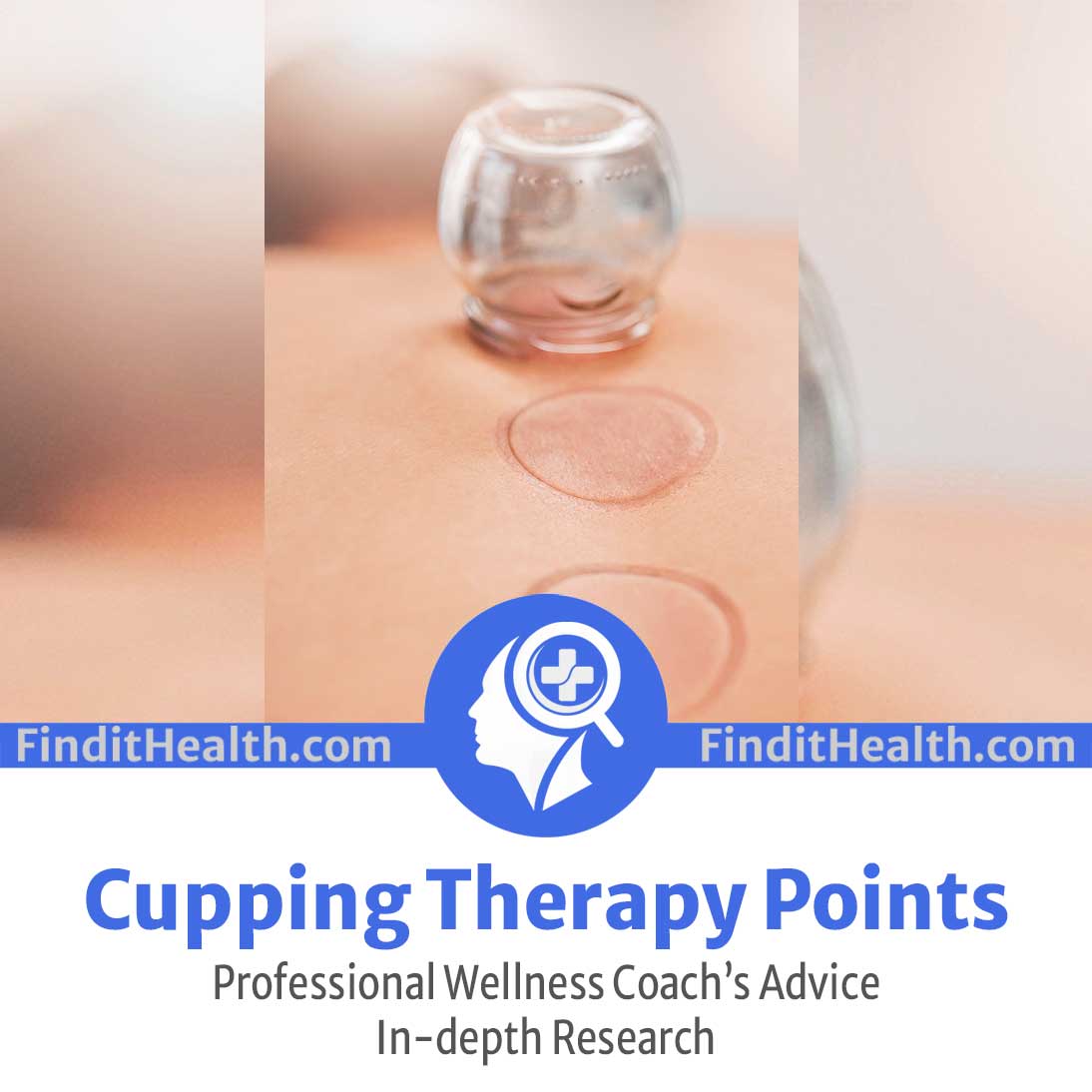 As the director of the wellness coach team at FindItHealth.com, I aim to provide research-based data related to cupping therapy points.
Cupping is a technique in alternative medicine in which a therapist uses specific cups on your skin for a brief amount of time to create suction. These cups can be placed over muscles on the back, chest, abdomen, buttocks, legs, etc. The cups are usually made of a wide variety of materials including wood, ceramic, and silicone, glass cups are the most extensively used.
Our research team has compiled a list of locations and points commonly used in cupping therapy: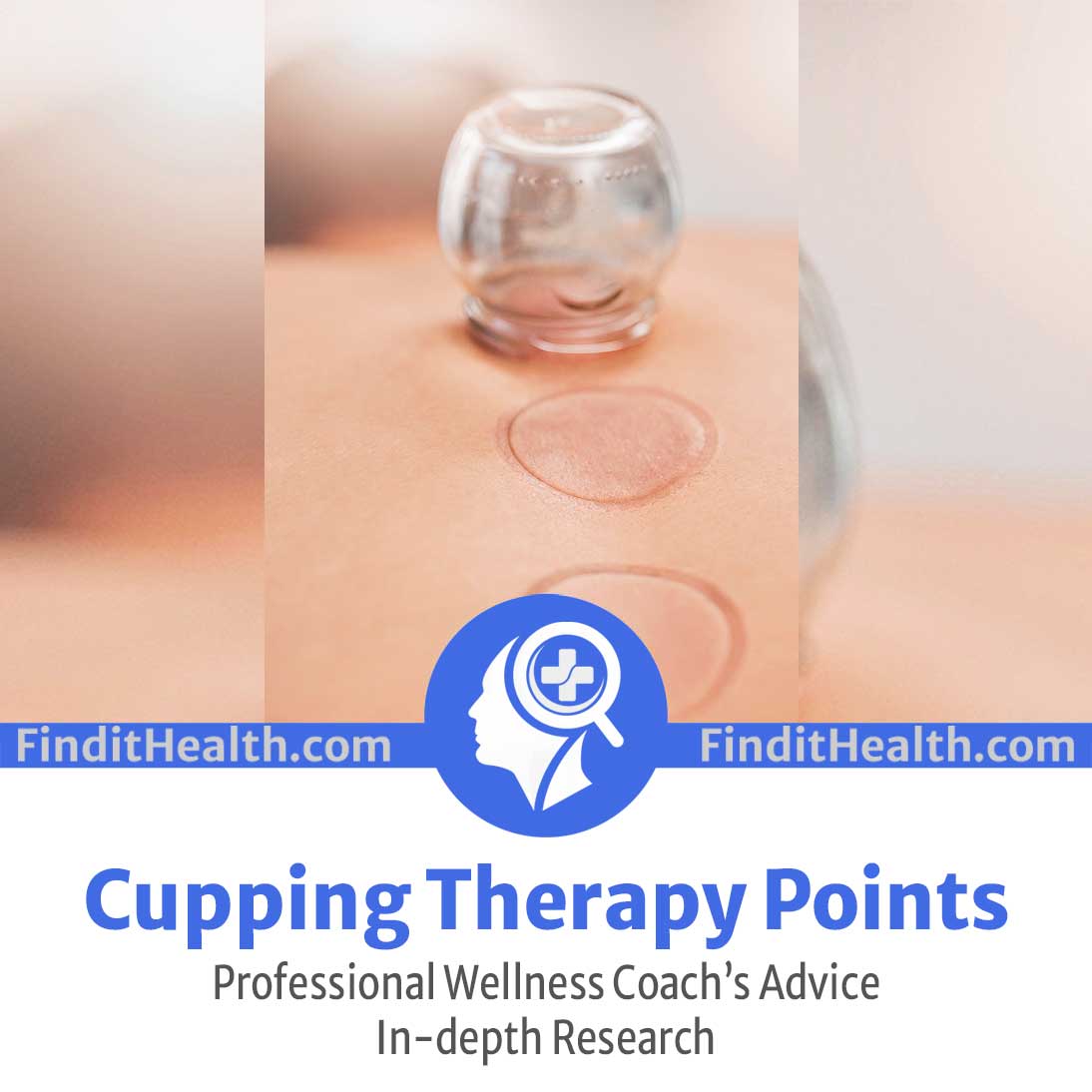 Cupping Locations and Points
---

The locations are chosen based on the condition being treated. Cups are routinely placed over muscular regions. The most frequent areas for application are:
Back
Chest
Abdomen
Buttocks
Legs
Jaw
Face
Posterior neck
SUBSCRIBE  for FREE STRESS MANAGEMENT TECHNIQUES from our EXPERT COACHES!
Cupping Placement
---

There are several cupping techniques and types of cupping therapy including:
Dry Cupping/Stationary Cupping:
Placing an empty glass or plastic cup against the skin will suck or suction out any air inside it. This form of cupping involves vacuum suction and the cups may be moving or stationary.
Wet Cupping/Bleeding Cupping:
Wet Cupping involves placing a cup at the desired location and leaving for a couple of minutes.
The skin is then lightly and minutely sliced with a little knife by the therapist after removing the cup. After this, they place a second suction cup to remove some amount of blood to remove impurities from specific areas.
Empty Cupping
It eases muscle tension, muscle aches, and local congestion.
Oil Cupping
It involves applying massage oils, attaching cups to the body, and gliding them around a target location. Oil Cupping causes muscle relaxation and reduced blood pressure.
Horn Treatment
In Indonesia and several other countries around the world, people use animal horns to create a vacuum at specific points around the body. This is a more traditional approach towards the cupping therapy we know today.
SUBSCRIBE  for FREE STRESS MANAGEMENT TECHNIQUES from our EXPERT COACHES!
Where To Place Cups For Cupping
---

The specific points used for cupping are described below.
Front of the body
under the ends of the clavicle
on the shoulders
on the chest
the heart, using four fingers to measure down from the middle of the left clavicle
in the middle of the chest
the stomach directly under the chest bone
above the liver, right side of the belly
between the belly and the thigh near the pubic area
above the bladder
on the patella of the knee
Back of body
on the scapula
on the neck
between the shoulder blades
in the thoracolumbar corner
above the tailbone
on the buttocks
on the side of the hip
back of the knee
SUBSCRIBE  for FREE STRESS MANAGEMENT TECHNIQUES from our EXPERT COACHES!
Certifications
---

There are several sources from where you can learn to do cupping therapy for free but to practice it professionally you must have certification. This certification is provided on several credible online course websites including the following:
Professional Cupping Therapy Massage Certificate Course on Udemy
Cupping Therapy Diploma Course
Cupping Therapy Course
SUBSCRIBE  for FREE STRESS MANAGEMENT TECHNIQUES from our EXPERT COACHES!
Mindset
---

Cupping therapy should be approached with an open mind as it has extensive research behind its effectiveness. Several systematic reviews have shown the beneficial effects of a cupping session in the treatment of health problems. More and more people are preferring such traditional healing techniques over Western medicine.
SUBSCRIBE  for FREE STRESS MANAGEMENT TECHNIQUES from our EXPERT COACHES!
Frequently Asked Questions
---


What are the main points of cupping therapy?
Points for cupping therapy are chosen differently for each medical condition. For example, the knee and back are the most important points in a cupping session for chronic pain.
Which parts of the body should be avoided when cupping?
There are no specific areas in a healthy body that are dangerous for cupping therapy. However, in people who have edema, sensitive skin, or varicose veins, inflamed areas should be avoided as they can aggravate the underlying condition.
What common cupping therapy points are used in traditional Chinese medicine?
The most common sites of cupping therapy in traditional Chinese medicine include the back, chest, abdomen, buttocks, and areas wherever abundant muscle is present.
How are cupping therapy points different from acupuncture or acupressure?
There are some differences from cupping therapy. In cupping therapy, the area selected is usually bulky and abundant in muscle; however, in acupuncture, the points are relatively nearer to the bone and nerves for a better outcome.
Acupuncture provides similar relief and better blood flow but it is done with needles, cupping is preferred because of its more profound action. Acupuncture proves to be even more effective when combined with exercise.
The different types of acupuncture are widely accepted to be an effective treatment against
Dry needling is another technique in TCM that can be employed for the treatment of many health problems.
SUBSCRIBE  for FREE STRESS MANAGEMENT TECHNIQUES from our EXPERT COACHES!
Conclusion – Research by Findithealth.com



Cupping therapy is a technique used in Traditional Chinese Medicine for getting rid of chronic pain, inflammation, and muscle spasms. It is being widely used in professional settings now and is no longer something that people do on their own. Several professional places have been set up to do this practice systematically.
SUBSCRIBE  for FREE STRESS MANAGEMENT TECHNIQUES from our EXPERT COACHES!
Luz Chacon
Luz Chacon is a Health Educator, Wellness Coach, and EFT Tapping Practitioner with 30+ years in health advocacy. Specializing in stress management, wellbeing, and holistic health, she created a 40% stress reduction employee program. Luz is dedicated to helping busy individuals prioritize self-care, break patterns, and reach goals. She offers programs for organizations and individuals. Luz is passionate about sharing her health research and guiding informed choices!